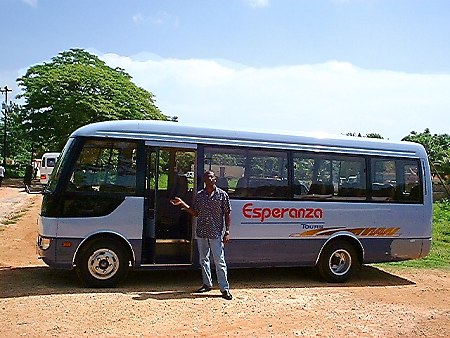 ESPERANZA TOURS!
June 16th-22nd, 2000
Beingees is glad to welcome Esperanza Tour Company as our newest sponsor! Esperanza's fleet includes 3 deluxe tour buses, each one equipped to handle up to 29 people in air conditioned comfort. The tour company also features 2 vans designed to accomodate up to 10 people in style. The good news is for any party of 3 and over, the trip from Montego Bay to Negril is only $20.00 US per person. Special group discounts are also availabale on our deluxe tour buses for parties greater than 10 persons. Esperanza Tours offers transportation from Sangster Airport in Mo Bay to any destination on the island! For these prices and our group discounts. as well as reservations, please email owner Patrick Grandison at merrils@cwjamaica.com or phone 1-876-995-9780 or fax him at 1-876-957-3121. Esperanza Tours...travel in style and comfort for a reasonable price!

Daily Music News: The Negril Entertainment Network will be on break for a while but will be returning later in this month. This break will be a fairly short one, so keep checking the Negril Message Board for the latest information on how to join the NEN for the next live webcast and chat in the Negril Chatroom! To make it to the Negril Message Board click on the Main Menu above or below and then look for the Negril Message Board link!
At 9:15am - the sun is out! The temperature is 79° F, 25° C.
Click here for Translation








Other area to visit in Jamaica:

To meet the banner advertisers requirements, we need to post this link to their privacy policy section. Give it a click if you have any qualms about it mon!
© Copyright 2000. Beingee's. All Rights Reserved.