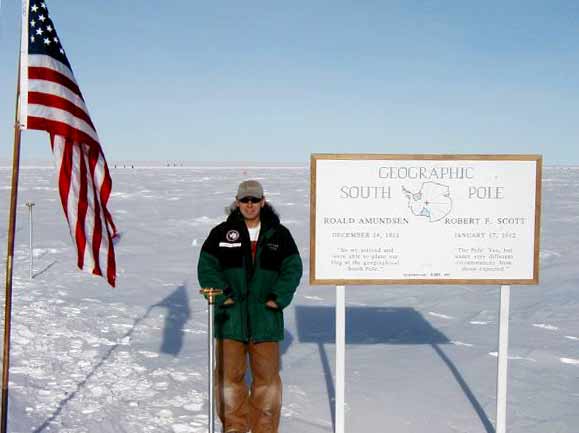 A Frozen Boardie!
November 16th, 2001
This past week Beingee's held it's annual "Meeting of the Board" and people who visit the Negril.Com web site came from all over the world to join in the fun! One of our online Negril friends couldn't make it this year, it seems he was stuck at the bottom of the world. The absolute bottom of the world! Frozenman sent us this picture taken at the exact location of the geographic South Pole wishing well to all his fellow boardies and wishing he was in Negril! He mentioned that daytime temperatures can hit -40 degress, and at that temperature it doesn't matter if you are talking Celsius or Fahrenheit as -40 is -40 in both temperature scales! Take care Frozenman and hope to see you soon here, because I seriously doubt my Reef Sandals would be appropriate footware in the land of all time zones! Thanks for the picture Frozenman and keep warm! See you soon!

Daily Music News: The Negril Entertainment Network will continue their webcasts and chats next week from Fun Holiday on Wednesday and a special one on Thursday with an American/Jamaican Thanksgiving from the Negril Treehouse! For more information about future NEN events and the Beingee's Board Meeting Daze, which are held on Tuesdays at sunset and Wednesday at noon, keep checking here, the Shows & Events listing or the Negril Message Board for all NEN live shows! As the time for each live NEN event approaches, check for details on the Negril Message Board. These posts will guide you through the procedure to join in the live web cast and chat in the Negril Chat Room. To make it to the Negril Message Board click on the Main Menu above or below and then look for the Negril Message Board link!
At 8:55pm - reggae in the air... The temperature is not -40° F, -40° C.
Click here for Translation
Beingee's Internet Negril Privacy Policy
Beingee's Internet Negril.Com is Powered By Globalnet


We use them and they can provide for all your Hosting Needs!

Other area to visit in Jamaica:

© Copyright 2001. Beingee's. All Rights Reserved.