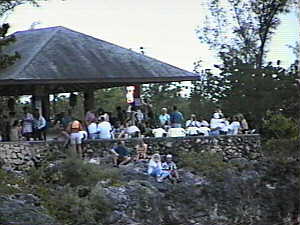 Seen?

16th, June 1996 (Continued)

Rick's is packed for sunset once again! Even after all these years, Rick's Cafe is one of the "must see" stops in Negril! And...in case you were wondering, the West End Road is OPEN! Yah mon! No problem cruising the West End now. (Work is being done to replace the old sewer lines. There was an enormous hole in the road just past Pickled Parrot, but that is now been filled! Traffic is flowing, well, at least back to normal anyway.)
At 10:30 am, a beautiful day, although the sea sounds rough. Temperature is 84° F., 28° C.