About the Negril Yacht Club
March 16th, 1999
There has been a lot of postings recently about the relationship between the Negril Yacht Club and Beingee's Internet Negril. The Yacht Club has realized the value of obtaining their own domain www.negrilyacht.com, and Beingee's whole heartedly agrees with that direction. It is only logical since they have become one of the places not to miss when visiting Negril. But, because of a lack of communication between the Yacht Club and Beingee's, the unveiling of the new Yacht Club site has not gone as smoothly as planned. This was meant to be a test for several new functions - and things did not happen as we all had hoped. We all had a meeting this morning and decided to release an official statement. In order to dispell any and all rumors, Beingee's decided to disclose the following paid Negril Today announcement from the Negril Yacht Club:
"Recently there have been some postings regarding changes at the NYC site. The YC has set up it's own domain and has styled their site after Beingee's. We are premiering (and testing) a new chat and message board which will hopefully be successful and make its way to Negril.Com.
The NEN will continue to broadcast from the YC and one the nights the NEN is not there, the YC Crew will broadcast.
The YC site is not intended to replace Negril.Com, but to spotlight the YC.
Hopefully, the other sponsors will enjoy the success that the YC has with the help of Beingee's.
The new (additional) chat and message board programs that you will soon be seeing will hopefully enhance your visits to NEN."
The Negril Yacht Club site is meant to be for Negril Yacht Club information, not general comments about other hotel properties, outside advertizing or other non-related Negril Yacht Club information. We wish the YC all the very best in their future success.
Daily Music News: the NEN will be should be at DeBuss on Tuesday night for the King Yellowman! As usual, keep check for the details on how to join the Negril Entertainment Network on the Negril Message Board.
At 3:23pm - a breezy day. The temperature is 78° F, 25° C.
Click here for Translation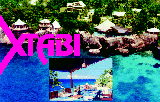 This page is sponsored by Xtabi Resort on the cliffs in Negril. If you like this website, be sure your next visit includes a stop at the famous Xtabi Resort and Restaurant! Let them know you saw them here! If you want to be a sponsor, bemail us. Thanks!
Other area to visit in Jamaica:

© Copyright 1999. Beingee's. All Rights Reserved.