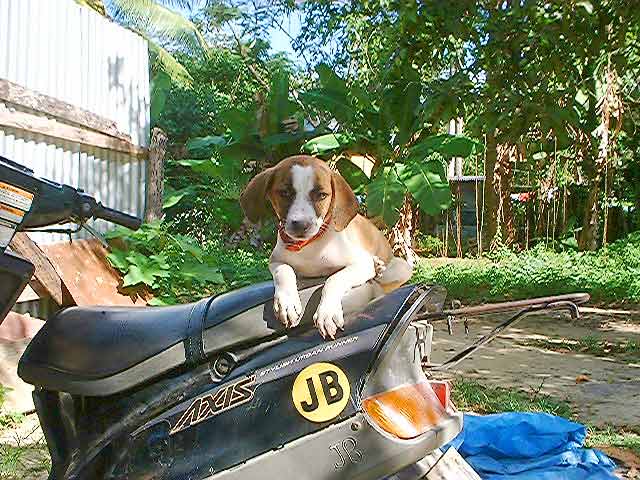 The Jah B Family
February 16th, 2002
Negril is known by the experienced travler as more than just another vacation destination. Negril is often described as a state of mind, something you just have to experience! Many people immediately get the feeling they are part of a community, not just a visitor to a generic city, but a place they feel they belong. Take today's Negril Today page for instance! Crazy Joe met some new Italian friends who stayed at the family owned and operated Jah B's and the Italians "adopted" Little Goopie adding to their holiday enjoyment! Jah B wants to offer a special to all his extended internet family here on the Beingee's Negril.Com web site by offering a special Beingee only discount (you must mention it in your email) on all his bike and scooter rentals! Be sure to email Jah B directly to work out an equally affordable vacaion package deal, after all, it certainly looks like Goopie knows a good thing when Goopie sees one! (grin) Also, Chef Tim at Jah B's wants to personally thank his Italian friends for all their - they certainly enjoyed his cooking and that makes him feel that they are part of his family as well! Visit Jah B's for your holiday in Negril and feel like part of his family! Goopie will love you for it! (grin)
Daily Music News: The Negril Entertainment Network's schedule will return with the regular live NEN events on Wednesday at noon from Fun Holiday and 9pm from Roots Bamboo. There will be nore planned so keep checking here, the Shows & Events listing or the Negril Message Board for more information about the live webcasts and chats! As the time for each live NEN event approaches, check for details on the Negril Message Board. These posts will guide you through the procedure to join in the live web cast and chat in the Negril Chat Room. To make it to the Negril Message Board click on the Main Menu above or below and then look for the Negril Message Board link!
At 6:52pm - the evening begins again in Negril! The temperature is 80° F, 27° C.
Click here for Translation
Beingee's Internet Negril Privacy Policy
Beingee's Internet Negril.Com is Powered By Globalnet


We use them and they can provide for all your Hosting Needs!

Other area to visit in Jamaica:


© Copyright 2002. Beingee's. All Rights Reserved.