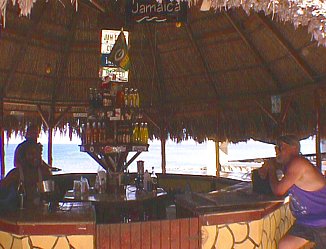 Pee Wee's
January 16th, 1998
There is much coming up in Negril, and you can find it daily on the Shows & Events listing in our Entertainment section. One of the upcoming events is the annual Pee Wee Birthday Bash held each year on February 8th. Today we have a picture taken yesterday with Pirate and Danny at Pee Wee's Bar. News: We had a GREAT Pub Crawl last night from Drumville Cove! Our first audio broadcast live from the Pub Crawl went out loud and clear! We would like to thank Dick Elliot for lending a helping hand getting people tuned in correctly. Thanks Dick! We have another special Back Ah Yawd today. Delroy talks with Garth and Jeff (from webdesigngroup.com) at the Pub Crawl last night. Click on Back Ah Yawd to check it out.
At 9:29am, a beautiful morning mon! The temperature is 77° F, 25° C.
Click here for Translation






© Copyright 1998. Beingee's. All Rights Reserved.