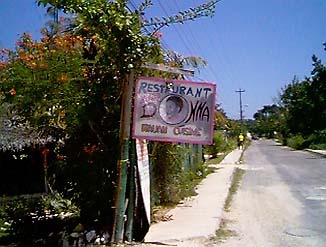 New Sign #2
October 14th, 1997
Everyone in Negril is getting ready for this coming winter season. A few days back we featured Chef's new sign, and today we have Bella Donna's new sign. Look for it on your next visit to Negril. Note: in case you missed it, we had another Sunday Sunset of the Week. It seemed to go better than our Sunday chat session, we had technical difficulties that prevented us from coming live from the Negril Sunday Brunch. Things are being worked out, so we should be back this Sunday. Join us mon! Be sure to stop back here around noon mon - JA time! And finally, Back Ah Yawd continues with Garth and Delroy at the Charela Inn. Click above on Back Ah Yawd to check it out! Irie!
At 8:34 am, orange juice and coco bread! The temperature is 80° F, 27° C.

© Copyright 1997. Beingee's. All Rights Reserved.