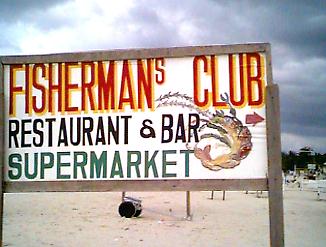 Fisherman's Club
September 14th, 1998
For years in Negril, thousands of visitors have stopped by one of the legends on the beach, the Fisherman's Club Restaurant and Bar. As the arrow on the sign indicates, The Fisherman's Club is located just off the beach, next to two more historic places in Negril, Pete's and Mavis's Restaurants. And also, it wouldn't be fair to mention Fisherman's without taking a moment to mention Big John who runs a small ice cold Red Stripe concession on the beach (just beyond this sign). His cooler has some of the coldest beers available - be sure to stop by and say hi, and mention to Big John you heard about him on Beingee's Internet. Big John has some great stories - stop by for a cool one and spend some time talking with him. You'll be glad you did!
At 6:35pm - a breezy evening. The temperature is 79° F, 26° C.
Click here for Translation








This page is sponsored by Charela Inn on the beautiful beach of Negril. If you like this website, be sure your next visit includes a stop at the fabulous Charela Inn and Le Vendome Restaurant! Let them know you saw them here! If you want to be a sponsor, bemail us. Thanks!
Other area to visit in Jamaica:

© Copyright 1998. Beingee's. All Rights Reserved.