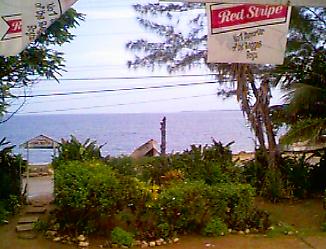 A Morning at Mi Yard
August 14th, 1998
After a late night of reggae on the beach and hours of dancing at the disco - the after hours spot to go is Mi Yard - located right before you get to Tigress Court. But in addition to the late night festivites, Mi yard also has the earliest coffee and breakfast available in Negril! If you need your morning pick me up - look no further than the world famous Mi Yard - sip your coffee and enjoy the great early morning view from the balcony. What a way to start the day! Note: Because of the sporatic phone service that Negril is being supplied by the international company - Cable and Wireless, our weekend broadcasts have been not getting through the way we would have liked. On Friday we had to eventually give up on the video signal to be able to send out an adequate audio signal - which worked rather well, but not exactly as we had planned. Look for us to try again on Saturday and Sunday night from the Negril Yacht Club on the sparkleing Caribbean Sea. See you then! Details on how to join us, as always, will be posted on the Negril Message Board! Becuse of the bad phone lines and the limited internet access we can get, Back Ah Yawd is on break until we can get come of these problems solved. Thanks for your understanding in this matter! Irie!
At 10:12am - an morning cup of fine Jamaican coffee! The temperature is 85° F, 29° C.
Click here for Translation








This page is sponsored by Charela Inn on the beautiful beach of Negril. If you like this website, be sure your next visit includes a stop at the fabulous Charela Inn and Le Vendome Restaurant! Let them know you saw them here! If you want to be a sponsor, bemail us. Thanks!
Other area to visit in Jamaica:

© Copyright 1998. Beingee's. All Rights Reserved.