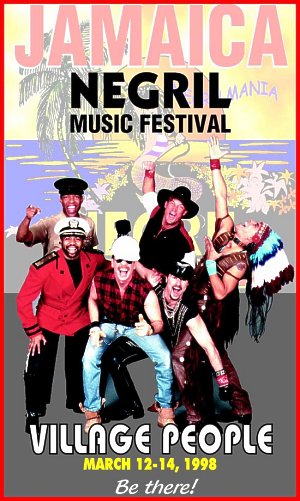 Negril Music Festival!
February 14th, 1998
The Spring Break News is starting and our first official announcement is the Negril Music Festival which will be featuring none other than the YMCA Men themselves - The Village People! The Festival will feature other acts and will run from March 12th to the 14th. We are gettng more news everyday - Risky Business has some big announcements - and we are also hearing that the MTV Grind will be happening somewhere in Negril, we are getting more more news everyday! Look for 3 hours of live entertainment on the Negril Entertainment Network daily during Srping Break. You will also be able to join us in the Negril Chat Room. Back Ah Yawd has another Spring Break episode at Risky Business. Click on Back Ah Yawd for today's installment.
At 8:17pm, crickets chirping. The temperature is 80° F, 27° C.
Click here for Translation






© Copyright 1998. Beingee's. All Rights Reserved.