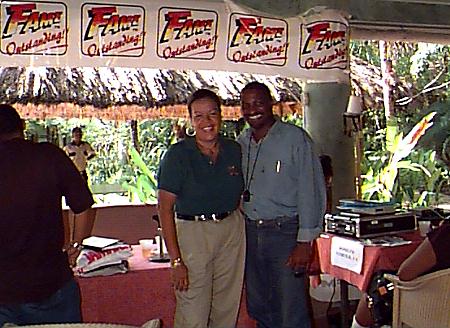 JTB and FAME FM
November 13th, 1999 Page #1
What a week in was in Negril! The JTB (Jamaica Tourist Board) held the Negril Remote at Swept Away. Radio stations from across the USA came to Negril and broadcast their morning programs as Jamaican guest artists gathered to be interviewed for the American listeners. The response was overwhelming and our contest for the bragging rights for Beingee's Negril.Com Cyber City of the Year was a close one! Q93 and The River put up a good battle but the city that gets the bragging rights is - Dayton, Ohio, USA thanks to the fine folks at WMMX 107.7! Thanks for participating and be sure to check out all the special edition Negril Today pages we have posted this week. Dana from the JTB and Francois from Jamaica's FAME FM are pictured above. We have a few more pages so be sure to give them a click. Please note, this week we will be having multiple pages posted each day to give all the radio stations a chance to be featured on Negril Today and to highlight some of the guest artists present! To see the additional page(s) click on the link in the last line of this paragraph mon or on Next above or below! Daily Music News: The Negril Entertainment Network is working with the Jamaica Tourist Board to bring you this year's Negril Remote live from Swept Away! Starting each morning this week at 7:00am JA time, the webcast times should be convenient for our European friends as well as the early morning risers in the US of A! As the time for the webcast draws nearer, please check the Negril Message Board (found on the Main Menu) for the most current information on joining the live webcast and chat from Negril, Jamaica! To get to the Negril Message Board click on the Main Menu above or below and then look for the Negril Message Board link! Click here for our special edition Page #2!
At 5:27pm - the evening approaches... The temperature is 80° F, 26° C.
Click here for Translation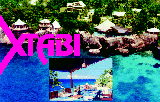 This page is sponsored by Xtabi Resort on the cliffs in Negril. If you like this website, be sure your next visit includes a stop at the famous Xtabi Resort and Restaurant! Let them know you saw them here! If you want to be a sponsor, bemail us. Thanks!
Other area to visit in Jamaica:

© Copyright 1999. Beingee's. All Rights Reserved.