Irene's Display #1
October 13th, 1999
On Wednesday morning tropical storm Irene was upgraded to a class 1 hurricane as it approached Cuba. In Negril, being in close proximity Cuba did feel some of the effects that Irene was going to deal out. This picture, taken on Wednesday morning shows the heay rains - notice that the beach is not visible - in tomorrow's picture you will see the difference! Also, the white specs in the picture are actually the trails left by raindrops caused by the flash! Happy trails! Daily Music News: Needless to say, the weather forming near Jamaica will be putting a damper on this week's Negril Entertainment Network schedule. Look for a return on Friday - and remember to keep checking the Negril Message Board for more current updates and details on how to join in the webcast and live chat from Negril, Jamaica!
At 5:19pm - banded clouds... The temperature is 83° F, 26° C.
Click here for Translation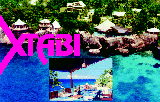 This page is sponsored by Xtabi Resort on the cliffs in Negril. If you like this website, be sure your next visit includes a stop at the famous Xtabi Resort and Restaurant! Let them know you saw them here! If you want to be a sponsor, bemail us. Thanks!
Other area to visit in Jamaica:

© Copyright 1999. Beingee's. All Rights Reserved.