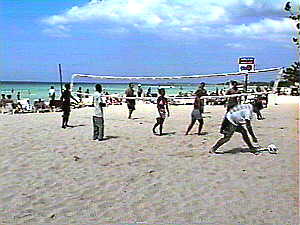 A Break in the Action

13th, June 1996

Olympic hopefuls' practicing for the Atlanta Summer Games? Nope, not for these folks anyway. No problem mon! There is always the next Olympics! Today we showed a pause in the play at Risky Business (taken a few days back). But...there is no pause in our party planning for the Dance Again Party in October 25 to 31. Tomorrow we will have a more complete update with airline reservation links and everything.
At 7:10 am, a row of clouds marching off in the distance. The temperature is 78° F., 25° C.