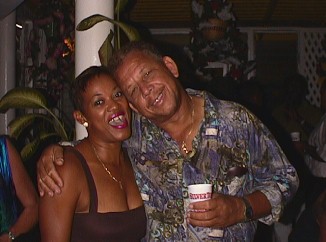 Marva's Night
February 13th, 1998 11:04pm
It was Marva's big 40th Birthday Bashment tonight! Marva had all her friends out including Arreton of Villa La Cage wishing her a great biirthday. You can once again join us in the Negril Chat Room and of course join us live on the Negril Entertainment Network by entering the following address in your NetShow Player:
msbd://concert.nothinbut.net:1175
Marva says thanks for joining her. You can stop by and see her in person at the bottom of Tigress Lane. Irie!
Back Ah Yawd is new today, Delroy talks again with Cheryl at Risky Business, the Spring Break spot for 1998! Click on Back Ah Yawd for more!
At 11:12pm, Marva's is da place! The temperature is 78° F, 26° C.
Click here for Translation






© Copyright 1998. Beingee's. All Rights Reserved.