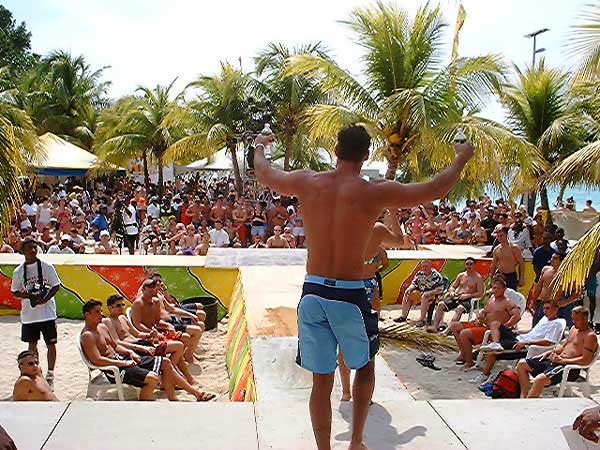 Here It Comes - Spring Break 2001
February 13th, 2001
Beingee's Negril.Com and Endless Summer Tours are getting prepared for Spring Break 2001 starting March 2001! Although this picture was taken last year at Tropical Insanity - it really gives thre feel of the youthful crowds that livens up Negril for the month of March! Today's Negril Today page features the Spring Break specials as we know them now! They are bound to change as more businesses get involved and those will be posted on the Negril Spring Break Message Board, but here we go:
Spring Break 2001
Fun Holiday Beach Fast Food Court offers the lowest price on food and drinks for all Spring Breakers this year. Enjoy the spicy Jamaican food and refreshing cocktails. 2 for 1 Lunch Specials and 2 for 1 Dinner Specials! Breakfast special includes everything 2 for 1 including beer, rum, cocktails, strawberrry daquris, pina coladas, margaritas, dirty bananas, etc.
Also 10-15% discount on jet ski rides! Win lots of prizes at the Fun Holiday Beach Fast Food Court every Mid-Day and evening from 7pm to 12am Midnight - Prizes available for contests like Best Breast & Figure, Bikini Contests, Beer Drinking. Prizes include dinner for 2, free jet ski rides, free jeep rentals, free rum, free pass to Hedonism II, free scooter and bike rides. And from 10pm to 11pm a special contest every Friday win US$300!!!
Negril Side Trips and Activities
Negril Bar Crawl- All aboard for the best party of the week. Catch the bus at the Bar-B-Barn and head up to the West End for Sunset, with stops at LTU Pub, Kaisers Café, Sam Sara and Pickled Parrott. After Sunset, head back down to the beach for Margueritaville, Risky Business, Legends, Kuyaba, DeBuss, and Bar-B-Barn. A great chance to check out all the best bars of Negril. Price $25.

Y'S Falls- After a 60 minute ride through Jamaica's beautiful South Coast, you arrive at one of the largest papaya plantations in Jamaica. Located within the rolling pastures and farmland is one of Jamaicas natural wonders. Lots of swimming in the falls, swinging on the rope swing, and climbing trails, so bring your swimsuit and footwear. Includes transportation, entrance fee, lunch, and drinks. Price $35

Sunset Cruise-What better way to spend an evening than aboard our 50 foot catamaran, cruising up the west end of Negril, sipping drinks at Sunset. Stop at the Pickled parrott for some snorkeling, rope swinging, or sliding on the 70 foot water slide. Top it off with one of the best sunsets in the world and this is definitely a cruise to remember. Includes beer, rum drinks, soda, dinner, and snorkeling equiptment. Price $35.

Island Picnic Cruise- Sail along Negril's 7 mile beach to the island of Booby Cay. Stop along the way to explore one of Negrils underwater reefs. After snorkeling, you land on the island for lunch. While there you can swim or explore the islands trails. Includes beer, rum drinks, soda, snorkeling equipment and a jerk chicken lunch. Price $40.

Risky Business Bottomless Mug-35 hours of free beer and rum drinks. Includes souvenir mug from one of Negrils' best places to party. Price $25.

Party Packages:

VIP Package- 5 breakfast and 5 lunches or dinners at the restaurants you choose (see list). Plus over 21 hours of free drink parties. Price $59.

Survival Package- VIP Pack and Risky Business Bottomless Mug. Price $85.

Party Package - Includes the Risky Business Bottomless Mug, Island Picnic Cruise, and the Negril Bar Crawl. Without a doubt the best package for those who love to party. Price $90.

Platinum Party Package-Party Package plus Legends Thursday All U Can Drink Tattoo Party. Price:$105

Call us @ 1-800-234-7007 w/any questions

joe@endlesssummertours.com

Daily Music News: The Negril Entertainment Network is taking a few days break! The NEN's next scheduled events are on Wednesday, Valentine's Day at noon and 9pm! As the time for each event approaches, check for the event details on the Negril Message Board. These posts will guide you through the procedure to join in the live web cast and chat in the Negril Chat Room. To make it to the Negril Message Board click on the Main Menu above or below and then look for the Negril Message Board link!
At 10:44am - working my way to the beach... The temperature is 79° F, 26° C.
Click here for Translation
Beingee's Internet Negril Privacy Policy
Beingee's Internet Negril.Com is Powered By Globalnet


We use them and they can provide for all your Hosting Needs!

Other area to visit in Jamaica:

© Copyright 2001. Beingee's. All Rights Reserved.