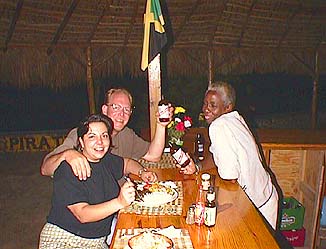 Debby and Bill
December 12th, 1997
It was a party last week as many friends came in from Columbus, Ohio, USA for a visit to our tropical shores. Here is Debby and Bill, shown with Lorna at the Pirates Cave Restaurant and Bar - enjoying a couple of the Pirates Cave specialties - ice cold Red Stripe and the brown stew fish! Look for Pirates Cave between Xtabi Resort and Pickled Parrot. We would like to thank everyone who attended last night's Pub Crawl and Chat. We got a late start, but we had a great time at Tayon's Chicken and Mi Yard. A very special thank you must go out to Delroy at Mi Yard - without him there wouldn't have been a chat from Negril last night! Big Up Delroy! Remember, next weeks Pub Crawl will be held Saturday (not on Thirsty Thursday). Back Ah Yawd continues today at Pirates Cave on Negril's West End. Click on Back Ah Yawd to see more mon!
At 7:45 am, the crawl was on last night! The temperature is 78° F, 25° C.
Click here for Translation






© Copyright 1997. Beingee's. All Rights Reserved.