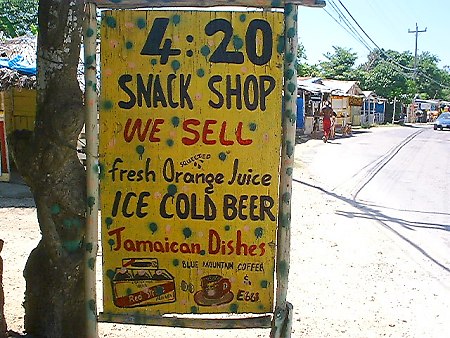 It's 4:20!
October 12th, 2000
Just as you go past the Pickled Parrot (heading towards the lighthouse), on your left is a whole market of stores and shops. The first, most visible place has to the 4:20 Snack Shop! For those that are new to the Beingee's Negril.Com web site, there has been an ongoing discussion about what 4:20 actually meant. Well the truth is out - 4:20 is the name of a snack shop that serves fresh squeezed Jamaican Orange Juice, makes up some great Jamaican dishes and offers an early cup of Blue Mountain! Oh, and can't forget the Red Stripes Lager Beer! Who run tings? (grin)
Daily Music News: The Negril Entertainment Network will be on break - but more events are planned so keep checking back here and the Negril Message Board for the latest information about joining the live webcast and chat in the Negril Chat Room and being a part of the NEN. As always, the information will be posted on Negril Message Board before the next event! To make it to the Negril Message Board click on the Main Menu above or below and then look for the Negril Message Board link!
At 11:46am - a warm, sunny noon... The temperature is 87° F, 30° C.
Click here for Translation






Beingee's Internet Negril Privacy Policy

Other area to visit in Jamaica:

© Copyright 2000. Beingee's. All Rights Reserved.