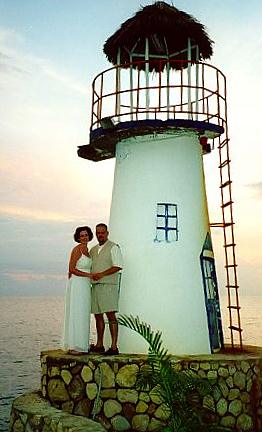 A KLWorley Wedding
August 12th, 1998
A few weeks back we were lucky enough to be joined in Negril by one of our internet friends - klworley and curley otherwise known as Kim and Jeanette Worley. We ran into them at the NEN (Negril Entertainment Network) broadcast at the Negril Yacht Club. They were staying in Negril for their honeymoon after having a great wedding at Mariner's Inn. We were unable to get a picture at the wedding so they emailed us a picture taken at Mariner's Inn Lighthouse. Thanks Kim and Jeanette, and all the best in your future life together! If you would like to send in a picture for our Negril Today, you can do so by emailing us a JPG of GIF file of your picture. Note: The Thirsty Thursday Internet Pub Crawl will be happening at Jamaican Price Restaurant and then the Crew will be crawling to DeBuss for their Thursday Bashment on the Beach with the Indika Band! Look for both to be broadcast on the NEN! Yah mon! Back Ah Yawd is back with it's final installment for this week's segment - look for the next Back Ah Yawd segment to start this weekend. Until then, click on Back Ah Yawd (above or below) for the Tuesday/Wednesday page!
At 8:00pm - the pub crawl is on! The temperature is 82° F, 28° C.
Click here for Translation








This page is sponsored by Charela Inn on the beautiful beach of Negril. If you like this website, be sure your next visit includes a stop at the fabulous Charela Inn and Le Vendome Restaurant! Let them know you saw them here! If you want to be a sponsor, bemail us. Thanks!
Other area to visit in Jamaica:

© Copyright 1998. Beingee's. All Rights Reserved.