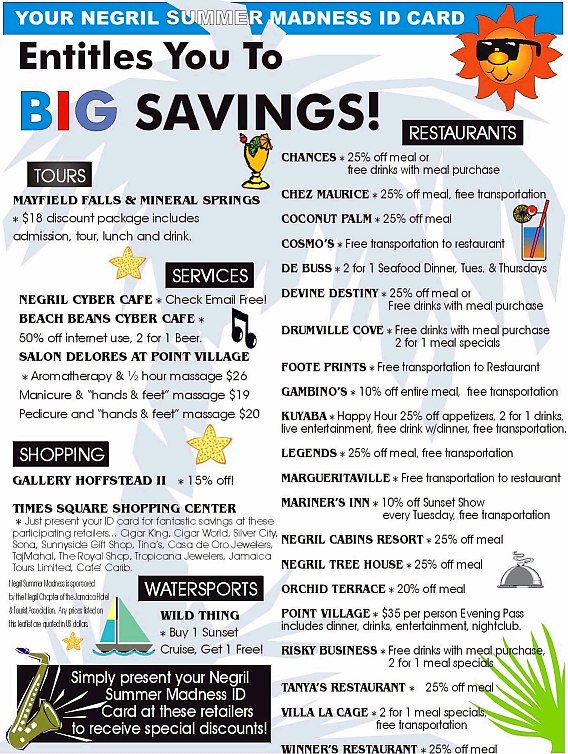 Summer Madness ID Card Specials 2000!
May 12th, 2000
The Negril Summer Madness 2000 is more than just hotel discounts! Above find the information about the Jamaica Hotel and Tourist Association's Negril Summer Madness Specials for 2000! There are specials on Tours, Services, Shopping and Restaurants! For more information on Specials check the Specials link at the top or bottom of this page! Daily Music News: The Negril Entertainment Network got a good connect from Alfred's Ocean Palace on Friday night and had a great time meeting some of the boardies in town! Look for the NEN next on Sunday night from Prento's Thatch Hut Bar! Check the Negril Message Board on Sunday evening around 10pm for information on how to join the NEN for the live webcast and chat in the Negril Chatroom! To make it to the Negril Message Board click on the Main Menu above or below and then look for the Negril Message Board link!
At 10:00am - a breezy morn... The temperature is 78° F, 26° C.
Click here for Translation








Other area to visit in Jamaica:

To meet the banner advertisers requirements, we need to post this link to their privacy policy section. Give it a click if you have any qualms about it mon!
© Copyright 2000. Beingee's. All Rights Reserved.