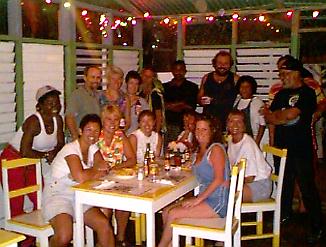 The Crawl at Mama B's
March 12th, 1998
Oh what a night! The Thirsty Thursday Pub Crawl had a great time as we travelled around the neighborhood (Tigress Lane). It was quite a crowd as Ang and DAWN (next to Nicey - left) showed up and brought all their internet friends. Thanks to all those who attended in person and online in the Negril Chat Room and on the NEN (Negril Entertainment Network). Oh what a night! Note: we are heading into a big weekend for Negril and the NEN - keep watching and listening mon! Details will be posted on the message board. Delroy is taking a break, but in case you missed it, Delroy is on episode #268 of Back Ah Yawd - click to check it out mon.
At 9:10pam, the wind is blowing. The temperature is 79°, 26° C.
Click here for Translation







This year's Spring Break Negril Today daily page is sponsored by MTV Springbreak Gear! If you like this website, be sure to give them a click mon and let them know you saw them on Beingee's! It really helps mon! If you want to be a sponsor, bemail us. Other area to visit in Jamaica:

© Copyright 1998. Beingee's. All Rights Reserved.