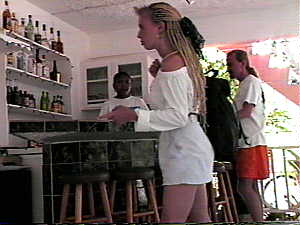 Which Way is the Water?

11th, July 1996

Everything seems to revolve around water in Negril. Whether you are staying on the beach with it's seven miles of white sand, or the mystic cliffs, the water is where it's at. Today's picture of a wonderful German tourist we met last week was taken at the Rant n Rave Villa. We are pleased to add Rant n Rave to our Where To Stay section.

At 9:00 am, slightly hazy, but no more Bertha clouds. The temperature is 86° F., 30° C.