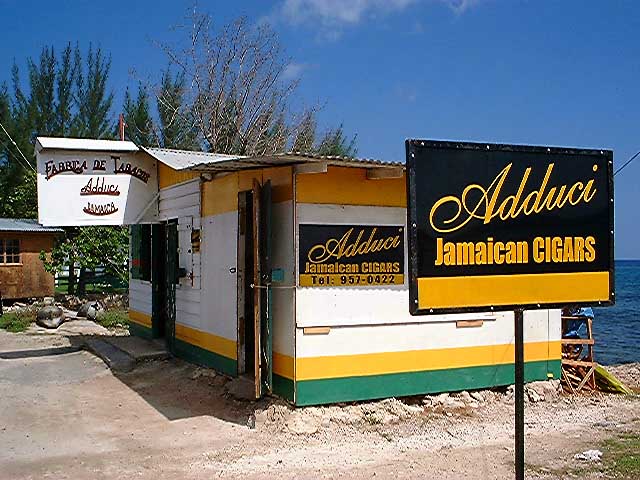 Adduci Jamaican Cigars
June 11th, 2001
The West End is the place in Negril for tobacco aficionados! Introducing Adduci Jamaican Cigars and Cigarettes! Adduci Jamaican Cigars and Cigarettes are manufactured with 100% Jamaican tobacco. Adduci grows their own Jamaican tobacco and also offers for purchase Jamaican raw tobacco to their visitors. All Adduci cigar boxes are manufactured by their skilled craftsman with Jamaican Mahogany wood. Adduci Jamaican Cigars and Cigarettes are proud of their product and can assure you that their cigars are of the highest quality. Adduci cigarettes, made from equally high quailty Jamaican tobacco are packaged 50 to each Mahogany box and sell for $50US per box. For people who enjoy tobacco, they are truly special and make wonderful gifts anytime of the year!

Adduci Jamaican cigars in Mahogany 5 and 20 packs. Special boxes are made with brass hinges and clasps.

Adduci Jamaican Cigars and Cigarettes have 2 West end locations to serve you! Adduci's main location and cigar factory shop/store is located on West End Road and the second West End location is at the world famous Rick's Cafe! Feel free to stop by the factory (shown above) and see them roll their cigars!

The factory shop/store is open from 9a.m.-5 p.m. Monday through Saturday and the second location at Rick's Cafe is open from noon till 10 p.m. everyday! The phone number for location at Rick's Cafe is 1- 876-957-0380. Ask for Joseph (The Cigar Mon) or Taniesha Adduci or you can leave a message at 1-876-957-0422. Please feel free to email them at adduci@cwjamaica.com for further information and prices. Again, drop by and see, smell and taste a Jamaican tradition in action!
Daily Music News: The Negril Entertainment Network is upgrading to new hardware and software for improved live chats and webcasts from Negril. The current scheduled NEN Wednesday events will continue with live chats from Fun Holiday at noon and at 9pm Roots Bamboo. For more information about future NEN events and the Beingee's Board Meeting Daze which are held on Tuesday and Wednesday, keep checking here, the Shows & Events listing or the Negril Message Board for all NEN live shows! As the time for each live NEN event approaches, check for details on the Negril Message Board. These posts will guide you through the procedure to join in the live web cast and chat in the Negril Chat Room. To make it to the Negril Message Board click on the Main Menu above or below and then look for the Negril Message Board link!
At 7:38am - the sun begins to warm the morning... The temperature is 79° F, 26° C.
Click here for Translation
Beingee's Internet Negril Privacy Policy
Beingee's Internet Negril.Com is Powered By Globalnet


We use them and they can provide for all your Hosting Needs!

Other area to visit in Jamaica:

© Copyright 2001. Beingee's. All Rights Reserved.