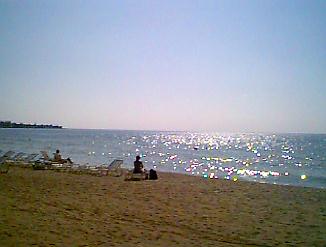 Afternoon on the Beach
April 11th, 1998
As the sun starts it downward path through the Caribbean blue sky, the sun's intensity subsides and it makes for a great time to sit back on a chaise lounge and bask in the afternoon rays. Today's picture taken at the beachfront resort - Travellers Beach Resort! Note: we will be broadcasting live this Saturday evening from the Negril Yatch Club so be sure to join us around sunset (6:30 JA Time - same as Chicago...) and listen in and chat with us on the NEN. Back Ah Yawd is on break today, but you can check out the last installment by clicking here or on Back Ah Yawd above or below!
At 9:58am, overcast blue sky this morning! The temperature is 81°, 27° C.
Click here for Translation






© Copyright 1998. Beingee's. All Rights Reserved.