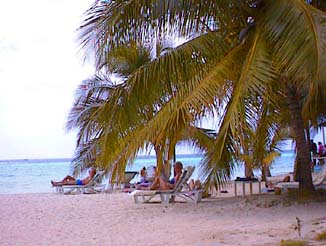 Beach Day
February 11th, 1998
With all the battering that El Nino has been causing the coastlines of the world, Negril has not been immune. But rest assured, the wild waves of this past week are over and the sea is calm and quiet again - as this picture taken around 2:30pm on the Charela Inn beach clearly shows. Relaxing under a palm is a great way to spend a day! News: Back Ah Yawd is back today, Delroy talks with Cheryl at Risky Business, the hottest Spring Break spot for 1998! Click on Back Ah Yawd for more!
At 6:01pm, the sun slowly sets. The temperature is 82° F, 28° C.
Click here for Translation






© Copyright 1998. Beingee's. All Rights Reserved.