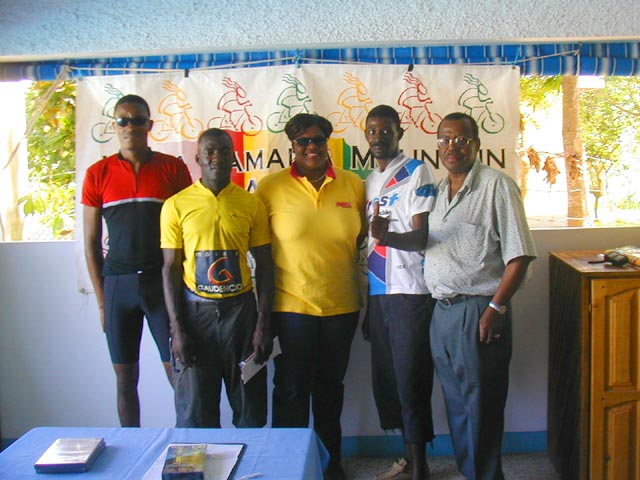 5th Annual Jamaica Fat Tire Festival
February 11th, 2003
Two Wheels, One Love! Those simple words summed up this year's 5th Annual Jamaica Fat Tire Festival held on the 3rd to th 8th of February, 2003! I need to take the blame if you were not aware of this event, just as I received the Press Release and other information, I got flattened by that flu and for that Negril.Com will make up for it next year as this is a great, worthwhile event! Rusty Jones with help from his friend Zerial have done a great service building this event! On Thursday the 6th, the Downhill Race was held, the Jamaican national Cross Country Championship Race was held on the 7th, and the Festival ended with the high intensity Road Race on the 8th! Forty three miles were covered in just less than an hour and a half - what a race! Today's Negril Today picture taken by Renee shows the winners of the Road Race, in order above there is the 2nd place finisher, Zerial Hayes, the winner Raydean Lawson is next, Claudia Cole from the Jamaica Tourist Board, who was on hand to support this event next, our third place finisher Donald Davis is standing next to Claudia and finally Volney Williams also from the JTB was there to oversee the festivities. Of course, after the race most everyone ended up at Pee Wee's Birthday Bashment! Look for much more coverage next year about this one of a kind event! See you next year!
Daily Music News: The Negril Entertainment Network is heading off at noon on Wednesday for the webcasts and chats Fun Holiday and at sunset from 3-Dives! Then it is back twisting by the pool on Friday from Eddie's Tigress II for the weekly Board Meeting Daze gathering at noon! And don't forget the great webcast and chat on Sunday morning at 10am with the Overtakers Band at Selina's Coffee Bar and Eatery! The NEN keeps bringing it to you LIVE from Negril! For the latest in Negril music news, keep checking here, the Shows & Events listing and our new NEN (Negril Entertainment Network) page located in our Entertainment section! As always, you can check the Negril Message Board for more information about the live webcasts and chats! As the time for each live NEN event approaches, check for details on the Negril Message Board and the new NEN section. This will guide you through the procedure to join in the live web cast and chat in the Negril Chat Room. To make it to the Negril Message Board click on the Main Menu above or below and then look for the Negril Message Board link!
At 10:34am - bright sky again... The temperature is 80° F, 27° C.
Click here for Translation
Beingee's Internet Negril Privacy Policy
Beingee's Internet Negril.Com is Powered By Globalnet


We use them and they can provide for all your Hosting Needs!

Other area to visit in Jamaica:


© Copyright 2003. Beingee's. All Rights Reserved.