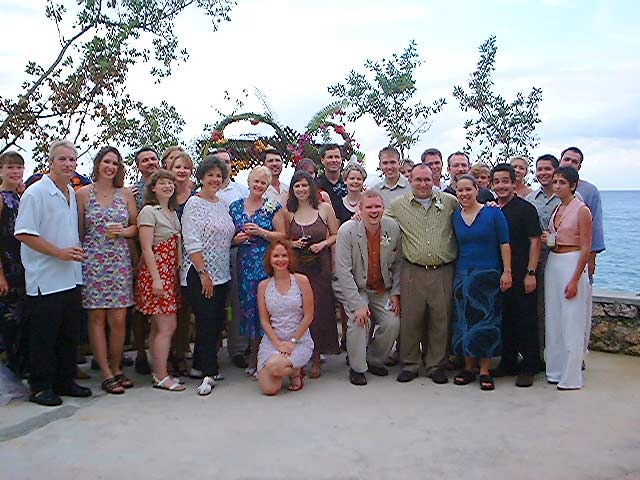 Family Photo
November 10th, 2001
Saturday was a special day on the cliffs as two members of our Negril online community tied the knot at sunset! Xtabi hosted the blessed event while many family and friends looked on as Muse of Fire and Just Dave were joined in marriage! The Negril Entertainment Network had a special webcast and chat for those unable to attend in person! A cyber handkerchief was passed to Richie's Mom who was crying while watching the wedding webcast. She always crys at weddings. It was a grand time and if the joy shown on Saturday night is any indicating, Muse and Dave should have a lifetime of wonderous enjoyment ahead of them! Congratulations!!!
Daily Music News: The 3rd and a half Annual Beingee's Negril.Com "Meeting of the Board" will be webcast on the Negril Entertainment Network next Wednesday starting at noon with a chat from Fun Holiday with Crazy Joe and the Negril Crew and continuing at Roots Bamboo from Sunset til Midnight! This is the first November Meeting of the Board and we hope that our first group will set the mood for the future annual meetings! For more information about future NEN events and the Beingee's Board Meeting Daze, which are held on Tuesdays at sunset and Wednesday at noon, keep checking here, the Shows & Events listing or the Negril Message Board for all NEN live shows! As the time for each live NEN event approaches, check for details on the Negril Message Board. These posts will guide you through the procedure to join in the live web cast and chat in the Negril Chat Room. To make it to the Negril Message Board click on the Main Menu above or below and then look for the Negril Message Board link!
At 6:33pm - the aroma of cooking fills the air... The temperature is 80° F, 27° C.
Click here for Translation
Beingee's Internet Negril Privacy Policy
Beingee's Internet Negril.Com is Powered By Globalnet


We use them and they can provide for all your Hosting Needs!

Other area to visit in Jamaica:

© Copyright 2001. Beingee's. All Rights Reserved.