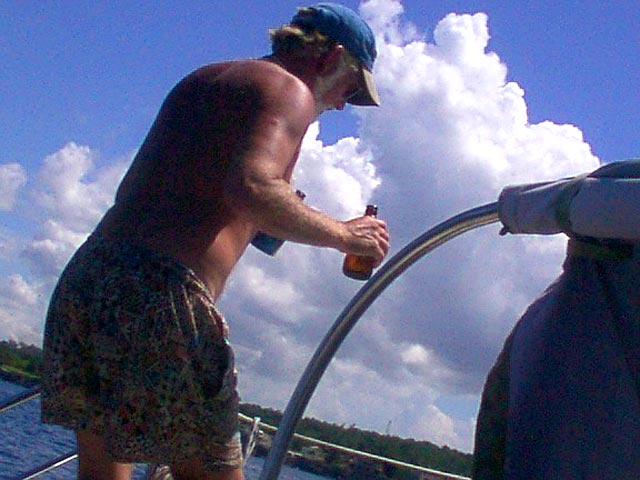 Maintain
October 10th, 2002
On Thursday the 10th of October, 2002, one of the Friends of Jamaica members and one of our "lurker boardie" friends from our ever growing Negril online community organized a group to take a sail out on the sparkling Caribbean aboard the Seawind. The beach front property Idle Awhile and this year's acting FOJ Headquaters was the starting point as the seafarers gathered to climb aboard the gangplank and head off into the horizon. Your's truly was invited to go but I had to attend to Beingee's Negril.Com business so the beautiful Alison was given her first "assignment", she grabbed the digital camera and boarded the boat to capture some pictures of the occassion! Today's Negril Today page appropriately entitled "Maintain" shows our brother Boardie Howard trying to negotiate the steps on the Seawind, carrying two cold beers while on a moving boat at sea! But Howard dug deep on his physical resources and got his "sea legs" - handling the steps and the beers like a pro! The ice cold beverages ended up in the bellys of their intended consumers - and all was well with the world on another afternoon in Negril! See you soon!
Daily Music News: The Negril Entertainment Network is ready for the Friday at the weekly Jammin' in da Jungle party - please join in the fun no matter where you are - these live webcast and chat events are becoming very popular! Give us a click Friday night - show time 9:30 JA Time! The NEN should be getting their replacement phoneline so things are a go for next Wednesday at noon from Fun Holiday and sunset from 3-Dives! For the latest music news, keep checking here, the Shows & Events listing and our new NEN (Negril Entertainment Network) page located in our Entertainment section! As always, you can check the Negril Message Board for more information about the live webcasts and chats! As the time for each live NEN event approaches, check for details on the Negril Message Board and the new NEN section. This will guide you through the procedure to join in the live web cast and chat in the Negril Chat Room. To make it to the Negril Message Board click on the Main Menu above or below and then look for the Negril Message Board link!
At 7:55am - from lengthy rains come gorgeous greens... The temperature is 83° F, 28° C.
Click here for Translation
Beingee's Internet Negril Privacy Policy
Beingee's Internet Negril.Com is Powered By Globalnet


We use them and they can provide for all your Hosting Needs!

Other area to visit in Jamaica:


© Copyright 2002. Beingee's. All Rights Reserved.