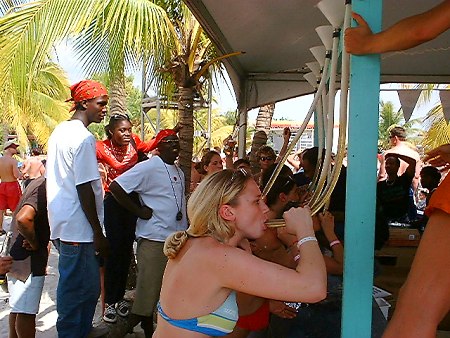 Hard at Break!
March 10th, 2000
We have been asked for more pictures from Spring Break 2000, so today we felt a beer drinking contest picture would be appropriate! For those unaware of what is taking place, this is a beer bong contest. Beer is placed in a funnel near the ceiling and long hose holds the golden 12 ounces of ale. When the whistle blows, the one who drains the hose the fastest is the winner. As you can see, this is not a male only event, to quote an old ad campaign, "you've come along way baby!" (grin) Daily Music News: The Negril Entertainment Network had a great webcast live from the beach bar at on Friday night from Alfred's Ocean Palace! Next scheduled event is Sunday at the tHATCH hUT with Prento and the latest in dancehall thanks to www.afflictedyard.com - check the Negril Message Board and the Shows & Events listing for the latest information on joining the webcasts and chat sessions! To make your way to the Negril Message Board click on the Main Menu above or below and then look for the Negril Message Board link!
At 9:45am - a sunny morning. The temperature is 76° F, 24° C.
Click here for Translation








Other area to visit in Jamaica:

© Copyright 2000. Beingee's. All Rights Reserved.