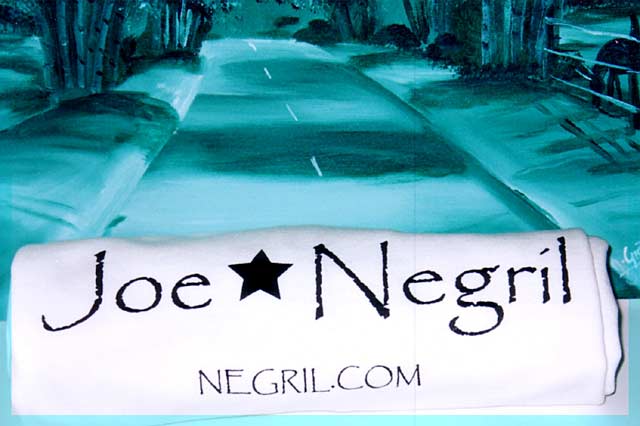 From the Joe Negril Collection...
December 9th, 2002
Today was a banner day in Negril as Joe got his first chance to be online since his motorcycle accident and post and chat with all of the people who make up our Negril online community! He read many posts and emails and had to thank everyone who has helped support his recovery. To be simple, he would not be were he is today without the support of our community, our Boardie friends! To keep his recovery going and to help offset his medical expenses as well as in his own way to start to say thank you, Joe wants all the Boardies to know that he will sign each of the 80 collectable Joe Negril shirts from www.rizwear.com for anyone who would want their's signed (all proceeds from the shirt sales are going to the Joe Recovery Fund)! This is just a first gesture of Joe's thanks and appreciation, and you can also sign his cast at the same time! (grin) Joe will be located for the most part at Tigress II, so do stop in to see him and say hi! Joe did say that he wanted everyone to know that he has gotten a new perspective on helping others and will be doing his best to show his tremndous thanks by helping others in need - more on that to follow as well. But while out of the hospital, our Internet CyberHost Joe still needs your help to reach the final stage of his recovery so that he can get back to his job of entertaining you - our extended Negril online family - on the Negril Entertainment Network! Soon come!
Daily Music News: On Sunday the Overtakers provided a festive time live on the Negril Entertainment Network during the morning webcast and chat at Selina's Coffee Bar and Eatery! The next scheduled Negril Entertainment Network events will be the live webcasts and chats at noon from Fun Holiday and at sunset from 3-Dives! There is much happening this month so keep checking back! For the most current music news, keep checking here, the Shows & Events listing and our new NEN (Negril Entertainment Network) page located in our Entertainment section! As always, you can check the Negril Message Board for more information about the live webcasts and chats! As the time for each live NEN event approaches, check for details on the Negril Message Board and the new NEN section. This will guide you through the procedure to join in the live web cast and chat in the Negril Chat Room. To make it to the Negril Message Board click on the Main Menu above or below and then look for the Negril Message Board link!
At 5:21pm - a bright gold sunset tonight... The temperature is 82° F, 27° C.
Click here for Translation
Beingee's Internet Negril Privacy Policy
Beingee's Internet Negril.Com is Powered By Globalnet


We use them and they can provide for all your Hosting Needs!

Other area to visit in Jamaica:


© Copyright 2002. Beingee's. All Rights Reserved.