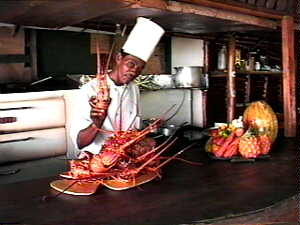 Live Long and Lobster

9th, July 1996

Lobster! Are you hungry? Lobster! Sound tasty? There is nothing like fresh lobster! Our buddy Hopeton tried to look serious while we were taking this picture at the Red Snapper on the beach. Speaking of serious stuff at the Red Snapper, click here for details or print out this page and present it on your next dinner visit for a free rum punch at sunset.

At 6:55 am, some basic Bertha clouds, nothing serious. Current temperature is 77° F., 25° C.