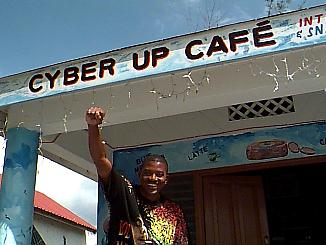 Cyber Up!
April 9th, 1999
In addition to the Negril Cyber Cafe located at Eddie's Tigress II, there is another spot you can check your email and browse the net after spending some time on our soft white sands. Today's picture features Cyber Jock Delroy at the Cyber Up Cafe above the Irie Vibes Bar at the Negril Beach House. Lappy is looking after things there, so be sure to stop in and say to him for us! Irie mon! News: Beingee's is proud to unveil its new search engine for the site, you can search for keywords listed on any of our over 3 years of daily Negril Today pages as well as do searches for hotel, restaurant and bar information! Give it a click here or find it in our Reference section off our Main Menu. Daily Music News: the cgi chat rooms that the NEN do not seem to able to handle the load we are giving them with the Real Video, so it looks like the NEN will have to stay with a Java based chat room. We are sorry to all those people on WebTV, we have once more chat room to test, but it does not look to promising. The folks on WebTV might have to wait until WebTV upgrades to Java. Sorry mon! Look for the Negril Entertainment Network to be returning very soon! Irie!
At 6:30pm - as the sun sets... The temperature is 85° F, 29° C.
Click here for Translation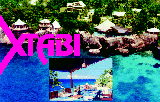 This page is sponsored by Xtabi Resort on the cliffs in Negril. If you like this website, be sure your next visit includes a stop at the famous Xtabi Resort and Restaurant! Let them know you saw them here! If you want to be a sponsor, bemail us. Thanks!
Other area to visit in Jamaica:

© Copyright 1999. Beingee's. All Rights Reserved.