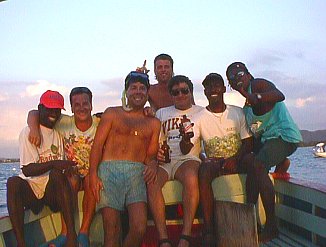 Paul's Party
December 8th, 1997
Yesterday we featured Paul from New Jersey USA on our Sunday Sunset of the Week page. Today's picture has Paul and his buddies aboard Shorty's boat - Children's Bread. Paul (shown here with the snorkel gear) booked his entire vacation stay at Xtabi Resort in Negril for his friends (Todd, Herb and Carp) using the information found right here at www.negril.com - Beingee's Internet Negril! He surfed our daily pages, browsed our Where To Stay section and found the perfect places for his party! Yah mon! News today: Entertainment is heating up in Negril, tonight we have Gregory Isaacs and King Yellowman live at Sam Sara! We have also been hearing rumors that Reggae Sumfest '98 will be moved from August to June or July - we will keep you posted - just check out Entertainment section mon! Today we have very special Back Ah Yawd - Delroy is discussing what happened under the sycamore tree with none other than Lady Saw! Click on Back Ah Yawd to check it out! Irie.
At 8:02 am, blue over the tropics. The temperature is 73° F, 23° C.






© Copyright 1997. Beingee's. All Rights Reserved.