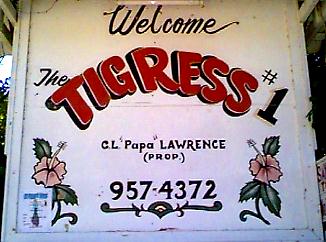 Papa's Place
October 8th, 1998
In addition to the many beautiful things to see in Negril Jamaica, one must not overlook meeting some of the great people that make up the small town known as Negril. Today's picture features one of Beingee's latest sponsor hotels, Tigress 1 - that was started many years ago my Papa Lawrence - who can still be seen taking his daily stroll through his neighborhood. Although he his not really involved in the day to day operations of Tigress 1 - Papa is still one of the colorful people that make Negril the special place that it is! Look for more from Tigress 1 in the upcoming days. Note: Thirsty Thursday Internet Pub Crawl crawed to Risky Business for their DJ Jam night and had another great broadcast - and even a CD Release Party for Edge Michael's freshest material! Yah mon! On Friday, Saturday and Sunday nights be sure to tap in to the NEN(Negril Entertainment Network) who will be broadcasting live from the Negril Yacht Club on Negril's wild West End! Details on how to to join the NEN broadcast wil be posted on the Negril Message Board - as always! Note #2: In order to receive and watch the broadcast, you can download the latest Real Player from www.real.com.
At 11:08am - another fine morning. The temperature is 84° F, 29° C.
Click here for Translation







This page is sponsored by Catcha Falling Star on the majestic cliffs of beautiful Negril Jamaica. If you like this website, be sure to book your next visit with Catcha Falling Star - just click on the link to take a tour of the property! And be sure to let them know you saw them on Beingee's! If you want to be a sponsor, bemail us. Thanks!
Other area to visit in Jamaica:

© Copyright 1998. Beingee's. All Rights Reserved.