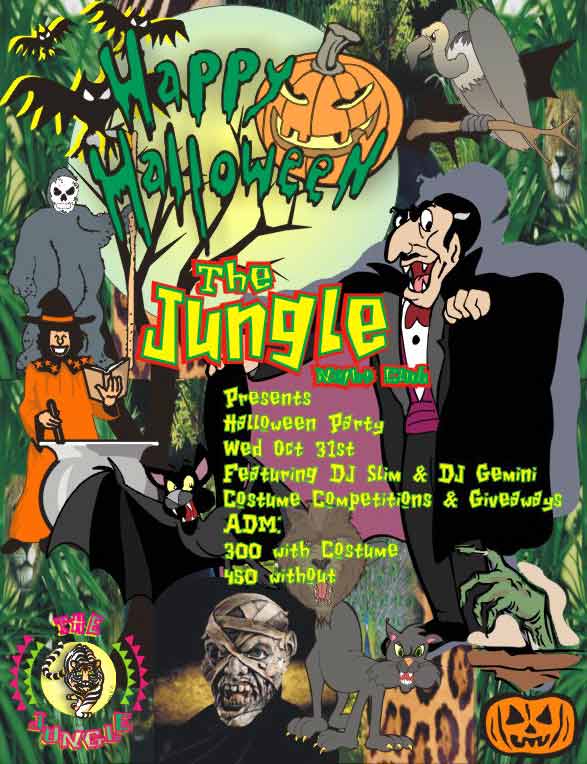 A Jungle Halloween!
October 8th, 2001
An ancient tradition that has evolved over the centuries is still being celebrated to this day. Americans have a tradition that started out as All Hallowed Eve and ended up calling it Halloween! Americans use this holiday to dress up in outrageous costumes and party the night away! This year The Jungle will be hosting a special Halloween Party from 10pm til closing! Carey Wallace is planning this festive party and is still interested in any ideas you may have. He wants to make this part of the Board Meeting Daze and invites all boardies to attend! If you have any thoughts on theme ideas, decorations or costumes, please email Carey at mariners@infochan.com. The fall's Shows & Events listing is filling up, if you haven't check it in a while, give it a click! Irie!
Daily Music News: The continuing weekly Negril Entertainment Network's webcasts and chats on Wednesday from Fun Holiday at noon and at 9pm from Roots Bamboo are on schedule as part of the Tuesday and Wednesday Board Meeting Daze! For more information about future NEN events and the Beingee's Board Meeting Daze, which are held on Tuesday and Wednesday, keep checking here, the Shows & Events listing or the Negril Message Board for all NEN live shows! As the time for each live NEN event approaches, check for details on the Negril Message Board. These posts will guide you through the procedure to join in the live web cast and chat in the Negril Chat Room. To make it to the Negril Message Board click on the Main Menu above or below and then look for the Negril Message Board link!
At 12:29am - the bewitching hour... The temperature is 76° F, 25° C.
Click here for Translation
Beingee's Internet Negril Privacy Policy
Beingee's Internet Negril.Com is Powered By Globalnet


We use them and they can provide for all your Hosting Needs!

Other area to visit in Jamaica:

© Copyright 2001. Beingee's. All Rights Reserved.