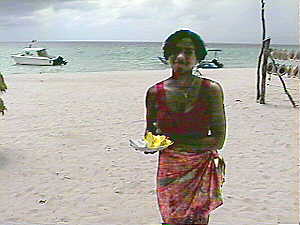 Power Food

7th, June 1996 (Continued)

Thanks to this wonderful woman (Keen) and the chef (Raymond) at the new Red Snapper, we are now ready to update our Main Menu (Monday). The vast quantity of tacos they've supplied me with over the last few days has given me the inspiration to add the sections that Garth, my partner, has wanted me to finish! Thanks again to the Red Snapper! Now on the Beach!

At 7:40 am, guess what? Cloudless again. The temperature is a wonderful 81° F., 25.5° C.