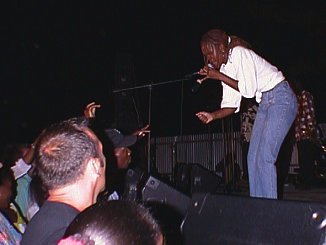 Muma Leck
January 8th, 1998
The beach was hot last night mon! The Wednesday night Roots Bamboo Seaside Bash was packed with partiers from all over the world! Opening for Lady Saw was Muma Leck, shown here getting the crowd on their feet. Exciting audiences seems to be easy for Muma, being talented and beautiful can be an asset. She has some new singles out - look for "Wine and Bugi" and "Allan Bamboo Ride" to climb the charts. Also look for her in an upcoming Back Ah Yawd episode or two. Today's Back Ah Yawd continues at Mi Yard, click on Back Ah Yawd for more! And don't forget the Thirsty Thursday Internet Pub Crawl. Detail will be posted on the Message Board...
At 11:32am, another perfect morning. The temperature is 82° F, 28° C.
Click here for Translation






© Copyright 1998. Beingee's. All Rights Reserved.