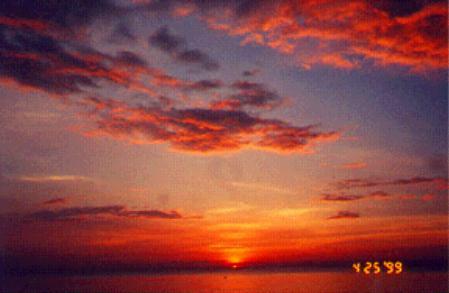 Sunset By Richard!
November 7th, 1999
A friend of mine has been visiting Jamaica for a few weeks and mentioned the other day that there just aren't any sunsets in the world as beautiful as the ones in Negril. Although it may be true that her judgement could be biased by the fact that she is in Negril, she has always struck me as a straight forward person and I know that she has traveled extensively, so I would tend to believe that she feels that it is true. Well anyway, if you aren't sure, just click on the highlighted "sunset" wording on each of the Sunday Sunset of the Week pages and you can click back through years of Negril sunsets. Try it mon, you'll like it! This week's Sunday Sunset of the Week was sent in by Richard B. from beautiful Detroit, Michigan, USA! He took this picture from Crystal Waters on our tropical seven mile beach! Big up Richard B.! Daily Music News: The Negril Entertainment Network will be taking a break on Sunday getting ready for a wild early webcast week of the Jamaica Tourist Board's Negril Remote - 15 radio stations from across the USA will be broadcasting their morning programs live from Negril back to their home cities and you will be able to hear (and see) it all live on the net! The event will be held all week at Swept Away and the Negril Entertainment Network will be bringing it to you live each morning starting by 7:00am JA time! This will basically be a lot of fun so the NEN hopes you will join them! Once again, as the webcast time draws closer, be sure to check the Negril Message Board for the most current information for being part of the webcast and chat from Negril, Jamaica!
At 10:29pm - getting ready for a wild morning!!! The temperature is 79° F, 25° C.
Click here for Translation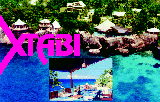 This page is sponsored by Xtabi Resort on the cliffs in Negril. If you like this website, be sure your next visit includes a stop at the famous Xtabi Resort and Restaurant! Let them know you saw them here! If you want to be a sponsor, bemail us. Thanks!
Other area to visit in Jamaica:

© Copyright 1999. Beingee's. All Rights Reserved.