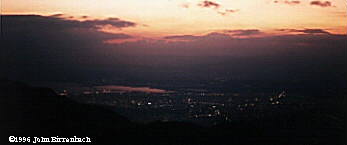 Blue Mountain Sunset

7th, November 1996

Today's picture was taken from the top of the Blue Mountains. It is a shot of Kingston at sunset. This was sent in by John Birrenbach of Minnesota. He was running for President of the United States, but got beat out by some guy from the south. News: As we've mentioned this week, Mariner's Inn is looking for bands to play at the Sunset Show. In addition to the band staying for free (!), Mariner's wants the person who contacts the band for them to also stay for free! Yah mon! So if you know of someone who plays in a band, click here.


At 11:45 am, Roots show was wild last night! The temperature is 90° F.,32° C.