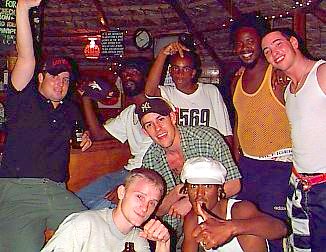 Prento and the Ohio Crew
April 7th, 1999
After this year's wild Spring Break 1999, things are returning to the quiet, laid-back ways of old Negril. Since Beingee's missed the last week or so of Spring Break because of our retooling of the www.negril.com website, we still have some Spring Break pictures left that we had promised to post. Shown here is Prento (right - in yellow tank top) with some of his new Ohio, USA friends at his bar - The Thatch Hut Bar on the Westland area of Tigress Court. As you can see from the smiling faces, Spring Break 1999 was a success and Beingee's would like to extend a personal thanks to all the students and travel reps that made this year's Spring Break the best ever! Daily Music News: the NEN is still in the process of testing the new chat room software with the Real Server, it looks like we may have to stick with a Java based chat after all. Sorry to all those people out there on WebTV, but we are still trying to work out a solution that will make everyone happy. Look for the Negril Entertainment Network to be returning very soon! Take care mon!
At 11:44am - as noon approaches... The temperature is 86° F, 30° C.
Click here for Translation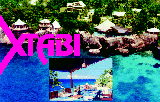 This page is sponsored by Xtabi Resort on the cliffs in Negril. If you like this website, be sure your next visit includes a stop at the famous Xtabi Resort and Restaurant! Let them know you saw them here! If you want to be a sponsor, bemail us. Thanks!
Other area to visit in Jamaica:

© Copyright 1999. Beingee's. All Rights Reserved.