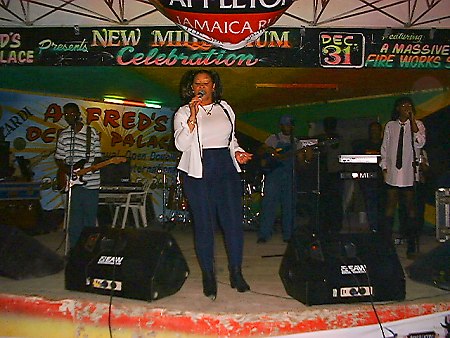 Georgia Henry at Alfred's!
April 7th, 2000
Music is synonymous with Negril. And on Friday night there is only once place to be to catch the best in reggae, and that is Alfred's Ocean Palace! For decades, visitors to Negril have been making the pilgrimage to this House of Reggae to listen to the likes on Georgia Henry, shown here singing to the beach front crowd! Georgia is one of the major talents that Negril has to offer, her magnificent voice can't help but make you dance the night away! You can find her on Friday's live at Alfred's! Speaking of Alfred's, Beingee's Internet Negril is having the first April "Meeting of the Board" at Alfred's on Friday night, the 28th of April for all the boarders who will be in Negril! The "Meeting" will be webcast live on the NEN, with the assistance of Albumside.Com on their NegrilNet Beingee's channel! Hope to see you there, wear your Negril.Com shirts if you got one! Daily Music News: The Negril Entertainment Network is fine tuning their new webcasting software and the next scheduled live webcast and chat is set for Sunday at the Thatch Hut Bar! Keep checking the Negril Message Board for the latest information on downloading the latest version of the Windows Media Player and on how to join the NEN at the live webcasts and Negril Chatroom! To make it to the Negril Message Board click on the Main Menu above or below and then look for the Negril Message Board link!
At 8:41pm - a hot evening in Negril! The temperature is 82° F, 28° C.
Click here for Translation








Other area to visit in Jamaica:

© Copyright 2000. Beingee's. All Rights Reserved.