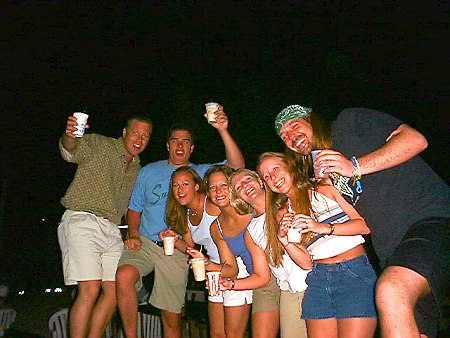 Minnesota Crew at Alfreds!
March 7th, 2000
Just as was asked for, here is a picture of some Spring Breakers! As always on Tuesday night, it was another great night at the world famous Alfred's Ocean Palace as soca blazed overhead as the latest members of the Minnesota Crew dancing on the table tops on the beach! Spring Break 2000 has hit Negril! Remember Spring Breakers, Negril is more than a beach so be sure to check out some of the cliffside as well as roadside establishments! This is where some of the best food and fun can be had! Feel free to ask on the Negril Message Board and to all you "old foggies" - be cool mon, this is most likey the first trip for these guys (used generically) outside the USA! By the way, tomorrow's Negril Today will feature a beer bong contest from Tropical Insanity - and the winner may surprise the college crowd! Daily Music News: The Negril Entertainment Network will be taking a break for on Tuesday getting ready for the show from Roots Bamboo on Wednesday night! The NEN would like to extend a big up to Sel-Vin for helping to make these webcasts during Spring Break come to live from Negril! The NEN is working on a special daytime webcast coming up soon - details are being worked out as this is being written! To keep up on the latest entertainment news, be sure to check the Negril Message Board and the Shows & Events listing for the latest information on joining the webcasts and chat sessions! To make your way to the Negril Message Board click on the Main Menu above or below and then look for the Negril Message Board link!
At 2:15am - a cool evening. The temperature is 70° F, 22° C.
Click here for Translation








Other area to visit in Jamaica:

© Copyright 2000. Beingee's. All Rights Reserved.