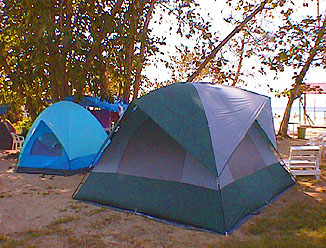 Camping Break
February 7th, 1998
Camping at Roots Bamboo is one of the fun ways of spending Spring Break that you may not be aware. We have been following the comments on the message board about the upcoming Spring Break '98! In order to help clear up some of the confusion, Beingee's is arranging our Beingee's Back Ah Yawd Spring Break '98! Of course we will bringing you LIVE broadcasts from the most popular events happening each week, but we will also have trips and experiences planned by people who have lived in Negril their whole life - as opposed to the "Disney-like" controlled herding of the Spring Breaker by reps who have been given a crash course on the "real Jamaica". Join us for the best of the best of Jamaica at Spring Break '98! More details will be announced shortly - keep watching for our Spring Break Today section to start mon! Irie! Delroy is back with Back Ah Yawd. Click on Back Ah Yawd to familiarize yourself with Jamaican patois!
At 10:17am, ocean breezes! The temperature is 80° F, 27° C.
Click here for Translation






© Copyright 1998. Beingee's. All Rights Reserved.