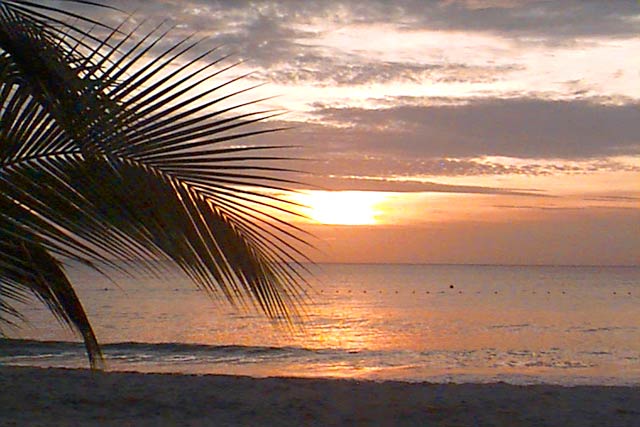 Idle Awhile FOJ Sunset
October 6th, 2002
As promisd earlier this week, this week's Sunset of the Week was taken on Tuesday's Friends of Jamaica mixer at the beautiful Idle Awhile Resort located on the spectacular Negril beach! Idle Awhile is a very appropriate name as it is very easy at the FOJ mixer to tour the property, get a drink at the beach side bar, sample some of the mixer's fine Jamaican cuisine and spend time chatting with new friends you met in Jamaica at the mixer! Please note: Sunday was a busy day here in Negril with early inspirational webcast from Selina's Coffee Bar and Eatery and Negril's First Jerk Fest Competition being hosted on Sunday at 3-Dives Restaurant on Negril famous West End! The NEN had some problems there as they were trying to raise the phoneline above the playing pickney (pickney and phonelines - bad combination) heads, no notice was taken of the car that was parking and turning it's front wheels, while stationary to park the car evenly, but it was also evenly on top of the phoneline. That pretty much called it an evening for the webcast, but the Jerk Fest continued.... more to come!!!
Daily Music News: The Negril Entertainment Network's had another special edition Sunday inspirational webcast at Selina's Coffee Bar and Eatery! The NEN's coverage of the 3-Dives Restaurant Negril's First Jerk Fest Competition on Sunday was literally grinded to a halt - sorry about that one. But the NEN will be back on Wednesday at noon from Fun Holiday and sunset from 3-Dives! And then again on Friday at the weekly Jammin' in da Jungle party! For the latest music news, keep checking here, the Shows & Events listing and our new NEN (Negril Entertainment Network) page located in our Entertainment section! As always, you can check the Negril Message Board for more information about the live webcasts and chats! As the time for each live NEN event approaches, check for details on the Negril Message Board and the new NEN section. This will guide you through the procedure to join in the live web cast and chat in the Negril Chat Room. To make it to the Negril Message Board click on the Main Menu above or below and then look for the Negril Message Board link!
At 9:07am - what a day! What a day... The temperature is 85° F, 29° C.
Click here for Translation
Beingee's Internet Negril Privacy Policy
Beingee's Internet Negril.Com is Powered By Globalnet


We use them and they can provide for all your Hosting Needs!

Other area to visit in Jamaica:


© Copyright 2002. Beingee's. All Rights Reserved.