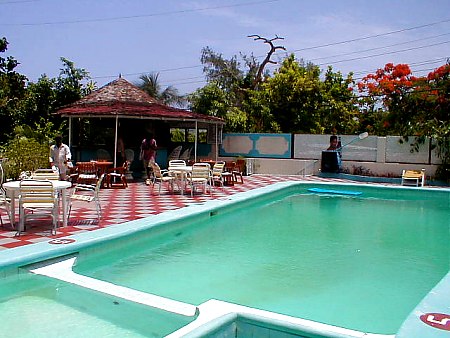 Beingee's Beginnings
September 4th-6th, 2000
Beingee's Internet Negril gets asked time to time about how it got started. Originating in the mind's eye as early as 1993, Garth Beckford and myself discussed how the Internet was going to change the way the world does business and how that change could best benefit Negril. Negril was going through some growing pains with the West End Road being in a wild state of road construction, similar to my own hometown of Columbus, Ohio, USA - the land of orange roadway barrels! Garth and I talked and researched what we could and made the idea of Beingee's Internet Negril a reality in November of 1995. Garth and I worked on Lynch Top Lane, next to Ocean Edge Resort, shown here. More about our beginnings and Ocean Edge's role in this in the next Negril Today page!
Daily Music News: The Negril Entertainment Network will be back on Wednesday night from Roots Bamboo with the Hurricane Band! As always, check the Negril Message Board for the latest information on how to join the NEN for the next live webcast and chat in the Negril Chatroom! To make it to the Negril Message Board click on the Main Menu above or below and then look for the Negril Message Board link!
At 10:01am - beautiful bright blue above... The temperature is 80° F, 27° C.
Click here for Translation








Other area to visit in Jamaica:

To meet the banner advertisers requirements, we need to post this link to their privacy policy section. Give it a click if you have any qualms about it mon!
© Copyright 2000. Beingee's. All Rights Reserved.