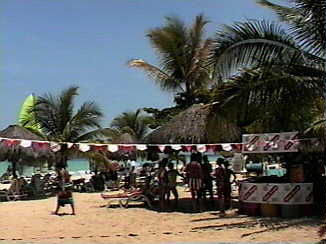 Another Day
August 5th, 1997
Just another perfect day in paradise...
We have been receiving reports of problems accessing our new Negril Message Board. On it, you can ask questions, leave comments about things like your favorite hotels or restaurants in the Raves & Faves section and talk with others who share your interest in Negril! But, we have been hearing that some of you are having problems seeing it. Give it a click and let us know if you are having any problems. Thanks mon! Note: Page #2 (above) has been replaced by our daily Back Ah Yawd! Don't miss it mon! (To see earlier installments of Back Ah Yawd, on the Back Ah Yawd pages choose PREVIOUS.) Irie!
At 7:06 am, a calming walk on the beach. The temperature is 74° F, 23° C.