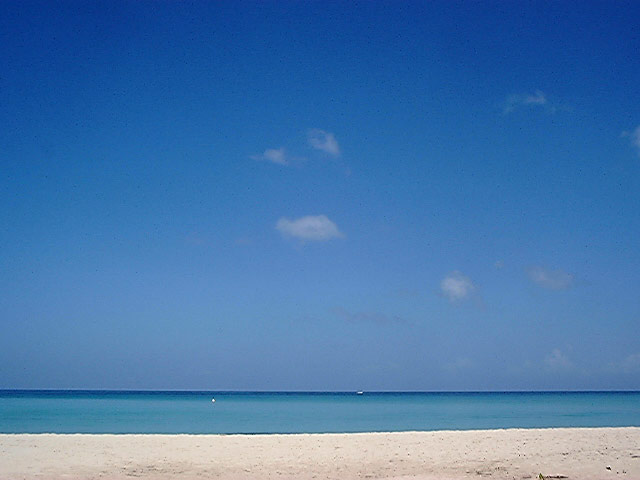 Independence Day
August 5th-6th, 2002
Well, we did have a few wild festivities that Joe wanted to get some great pictures, but as the old adage goes, the best made plans of mice and men often go astray. Maybe it is a simple querk in human nature, or possibly more of Negril's "sand gravity" that we mentioned on yesterday's Negril Today page - but whatever the case, this is about the only picture that Joe was able to take this past weekend! The only reason he thought to take this particular picture was the fact that is was one of the few moments that he notinced that no one was in front of the view of the camera! This being Emancipation and Independence Day weekend in Jamaica, Joe rightfully got caught up in the festivities himself and I can't blame him for forgetting about the camera - it was party time in Jamaica! Joe promised to get some pictures this week - so be sure to click back here each day for another photo from Negril - for those new to Negril.Com - you can click on the "Previous" button link above or below to see the previous Negril Today page! You can take the daily trip back to January 6th, 1996 - the day Beingee's went daily! Enjoy and happy Jamaican Independence Day!
Daily Music News: The Negril Entertainment Network's next scheduled events are set for Wednesday with live webcasting and chatting from Fun Holiday at noon and at sunset from 3-Dives. On Friday night it is back to the Jammin' in da Jungle party! For the latest music news, keep checking here, the Shows & Events listing and our new NEN (Negril Entertainment Network) page located in our Entertainment section! As always, you can check the Negril Message Board for more information about the live webcasts and chats! As the time for each live NEN event approaches, check for details on the Negril Message Board and the new NEN section. This will guide you through the procedure to join in the live web cast and chat in the Negril Chat Room. To make it to the Negril Message Board click on the Main Menu above or below and then look for the Negril Message Board link!
At 4:07pm - looks like it want to rain... The temperature is 85° F, 29° C.
Click here for Translation
Beingee's Internet Negril Privacy Policy
Beingee's Internet Negril.Com is Powered By Globalnet


We use them and they can provide for all your Hosting Needs!

Other area to visit in Jamaica:


© Copyright 2002. Beingee's. All Rights Reserved.