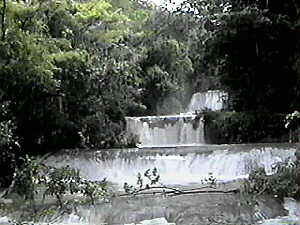 YS Falls

5th, July 1996

Spectacular sights are not restricted to the skys in Jamaica. A day trip that is a must when visiting Negril is an adventurous journey to the beautiful YS Falls. Today's picture was sent in by Dave Harrold. Attaboy Dave.

Back Ah Yawd will be updated by noon today. Be sure to check back after lunch.
At 8:30 am, another cloudless sky over Negril. The temperature this morning is 85° F., 29° C.