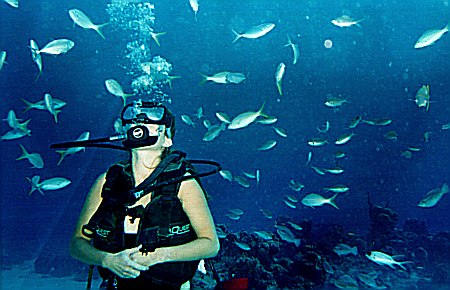 Under the Water!
May 5th, 2000
Talking about the water activities, one would be remiss in not mentioning the underwater world that is just below the flat surface of our piece the Caribeean Sea. Today's Negril Today shows just some of the fabulous undersea life that is your's to behold! There is nothing like the feeling of being in the largest tropical aquarium that you have ever imagined! And as we mentioned on the parasailing Negril Today page 2 days ago (click on Previous above or below twice), don't forget to bring a disposable underwater camera - what Jacques Cousteau experienced can be your's in Negril! Daily Music News: The Negril Entertainment Network had a fun evening on Friday night from Alfred's Ocean Palace! It was great meeting some people new to the NEN! The NEN will on break on Saturday night but will be starting around 10pm JA time on Sunday evening from Prentos Thatch Hut! Check the Negril Message Board on Sunday evening for information on how to join the NEN for the live webcast and chat in the Negril Chatroom! To make it to the Negril Message Board click on the Main Menu above or below and then look for the Negril Message Board link!
At 6:15pm - a clear sunset... The temperature is 86° F, 29° C.
Click here for Translation








Other area to visit in Jamaica:

© Copyright 2000. Beingee's. All Rights Reserved.