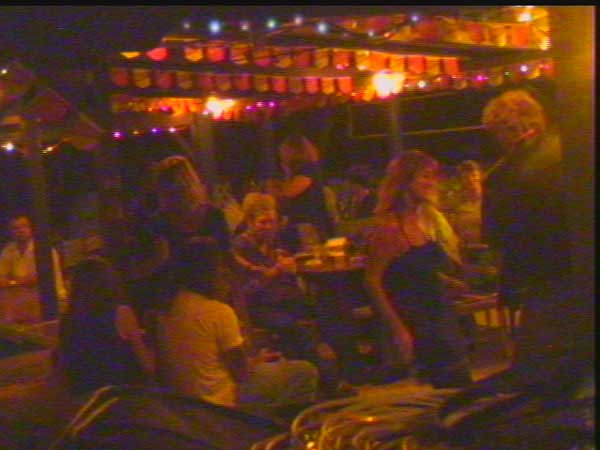 You Say It's Your Birthday...
January 4th, 2001
Well it was my birthday too last night at Alfred's Ocean Palace! Today's Negril Today shows a picture of the party taken directly from the video webcast. The party was started by boardie Celinda to help me celebrate 40 years on this fragile planet. Although there must have been a bug in the Negril Message Board software (only a few people saw the "LIVE" post and then it disappeared) that didn't prevent people from joining us in the live webcast from Alfred's! I would like to thank all those who made this an evening to remember, Alfred, Hugh, Donovan from Alfred's, Celinda and her group, FF, ffCindy and Headley, SOS, Suz and Sportie, Music Mon, Lucky Lady, Sparkling Traci, Sharon and Eddie, Rusty, Toby, Chil, JoiseyJeff and Michelle (formerly AppleJeff, now more of an IBMJeff), Sienna and Sala, FunnyFace and his friends, Rasta John and his friends, Irene, Mark, Eri and Evan Conklin, board readers from all over including the comedian Gallagher and to all the other people I forgot to mention! Orv Bridger sang island tunes and yours truly joined him singing the classic "Sloop John B". It was a great night - thanks to one and all!
Daily Music News: The Negril Entertainment Network's next scheduled live webcast and chat on Wednesday from Fun Holiday and Roots Bamboo. On Friday night we should be live from Alfred's Ocean Palace! If you are going to be in Negril this year, please stop by and help us celebrate life at any of the NEN live events. As always, the information will be posted on the Negril Message Board, letting you join in the live web cast and chat in the Negril Chat Room. To make it to the Negril Message Board click on the Main Menu above or below and then look for the Negril Message Board link!
At 11:19am - a windy day... The temperature is 74° F, 23° C.
Click here for Translation
Beingee's Internet Negril Privacy Policy
Beingee's Internet Negril.Com is Powered By Globalnet


We use them and they can provide for all your Hosting Needs!

Other area to visit in Jamaica:

© Copyright 2001. Beingee's. All Rights Reserved.