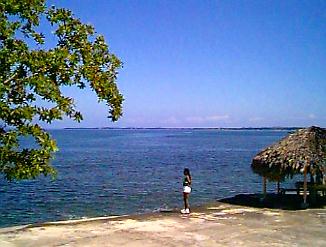 Donna in Thought
November 3rd, 1998
Spend some time on the tropical island of Jamaica and one can invariably begins to reflect back on life's wonders. You are struck by the beauty that is all around you. Today's picture features Donna in one such mood while gazing out at the sparkling blue Caribbean Sea at the Negril Yacht Club. Come and experience the wonders within your reach in Negril, Jamaica! Daily Music News: last night's broadcast from Risky Business went off without too much difficulty, although we did make our way through a couple connection complications. Look for the Negril Entertainment Network to be live Tuesday at the Mariner's Inn Sunset Show starting around 6:30pm. You can join the Negril Entertainment Network, details will be posted on the Negril Message Board (found off the Main Menu - link is above and below) on Tuesday - late afternoon or early evening.
At 1:31pm - blue skys above, blue waters below! The temperature is 86° F, 30° C.
Click here for Translation







This page is sponsored by Catcha Falling Star on the majestic cliffs of beautiful Negril Jamaica. If you like this website, be sure to book your next visit with Catcha Falling Star - just click on the link to take a tour of the property! And be sure to let them know you saw them on Beingee's! If you want to be a sponsor, bemail us. Thanks!
Other area to visit in Jamaica:

© Copyright 1998. Beingee's. All Rights Reserved.